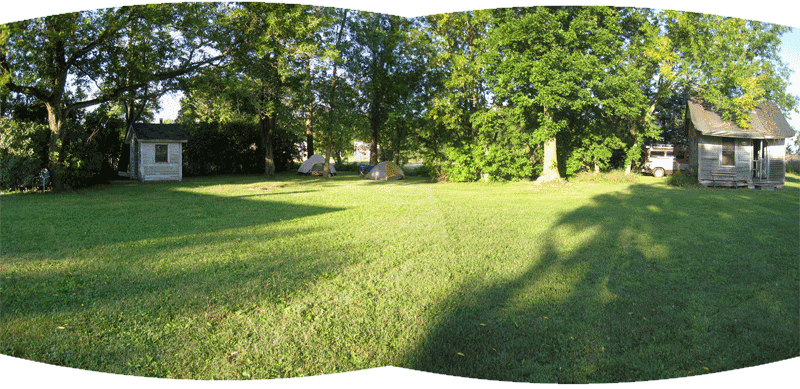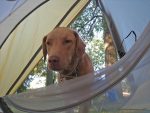 After searching the maps and river guide books for a new river within a days drive of Minneapolis we settled on the Hay River, planning to put in just south of Prairie Farm, in north central Wisconsin. We could camp within an hour of the river on a friend's farm so we headed off, tents and canoe and food and paddles all thrown into the car at the last minute. I was awakened early in my tent with a visit by Poppy, our host's lab.
The drive through Wisconsin farm country was like driving through a film, hardly any other cars on the road, all the fields mowed into giant bales of hay or left standing as millions of rustling corn soldiers for as far as you could see. The hour drive turned into nearly two hours with stops for gas and ice and bad map estimates.
We finally found the put-in to the Hay River just south of tiny Prairie Farm, up river from the Norwegian Bridge. Fisherman agreed to watch our canoe while we managed the car shuttle to the end of our day's paddle. This proved to be more difficult than planned as the new guide book we were using was not well marked and the twisting path of Hwy F, V, VV, and 64 was like a labyrinth, and then throw in two closed roads. We were saved by Paul, tractor driver, who literally pulled up beside us to ask if we were looking for something local. He gave perfect directions, and we left one car at river trip end and drove the second car back to our canoe.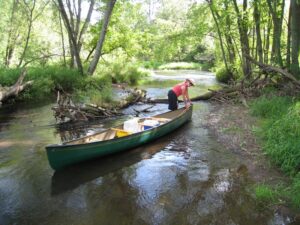 Hay River is a prairie river — low banked with fields and farms adjoining— punctuated by brief interludes of gorgeous sandstone cliffs. The Chippewa and the Sioux Dakota Indians fought their last battle on the river's banks in 1861. Once again weeds caught in branches above us marked the astonishing high water mark of spring floods but now it was the last day of August and we found low water requiring many push and pulls over rocks and sand. Downed trees had us hauling the canoe over trunk dams andthrough branches and since Ian forgot his water shoes back at our campsite, I did all the hauling and pulling while he kept his feet dry!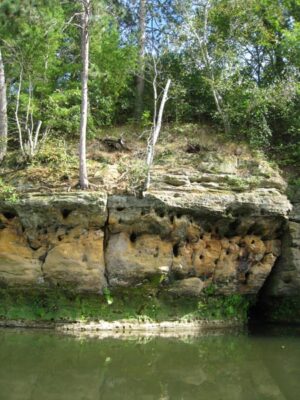 The river twisted and turned and winded this way and that. In a normal afternoon we have paddled between six and thirteen miles (depending on current and water levels) but the Hay proved so time consuming that we found ourselves only four and a half miles into our ten mile plan and the sun quickly sinking behind the tree bank line.
Sometimes the best laid plans…We hoped out at the next bridge, (knowing the next two bridges were closed for construction I had to hike to a farm house to figure out what road we were on and which direction should we walk. No one was home but old mail in the box gave us the road number!). We hid the canoe under the bridge and stuck out our thumbs in the hopes that a local would run us back to the Norwegian Bridge. After some time we were lucky, our driver was kindly, popped the trunk for our gear, and we began the long shuttle of picking up cars and canoe. It was a beautiful river, abet short, and another river lesson: When things go awry just smile and enjoy whatever IS happening instead of what whining about what ISN'T. It was a glorious day despite "The Plan."