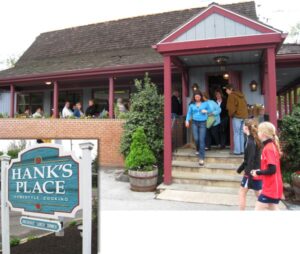 Due to a fortuitous meeting in Florida months ago, and an ensuing unlikely wild plan, I found myself invited to join a three canoe Kerr family rendezvous on the Brandywine River, thanks to Randy, organizer extraordinaire.
After speaking at Nottingham Elementary, Oxford, PA, winner of my national drawing for a free Author Visit (and my hat is off to the remarkable staff and students of this stellar school),
I met Randy, his family, and his trailer full of three canoes, at Hank's Place, on Route 1, in Chadd's Ford. The morning was cold, slate gray, and bone chilling. Hank's famous hash was in great demand and we waited for places in the Sunday gloom. Once fed we started the long shuffle of canoes and cars and I had the pleasure of waiting while poking around the closed-for-the-winter Brandywine Picnic Park.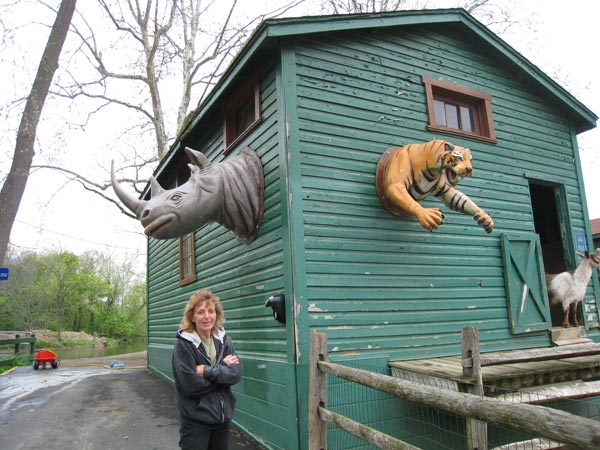 There is nothing quite so strange as a closed down amusement park and this place, in it's Sunday morning gloomy quiet, seemed to spill with stories. While prowling around I met the animal keeper and the heavy sky, protruding fake animals, and bleating real animals made for a slip into a twilight zone.
Car shuttling complete we nosed the canoes down the steps and onto the lovely Brandywine. (In the 1770's British Red Coats were seen bathing and washing those bright coats along this very stretch of river but today only the local Police Department was running a water rescue workshop in the chilly water.) Dogwood blooms floated amid the budding green trees and bits of rock walls, old stone barns, and trim houses stood as quiet evidence of the Revolutionary days.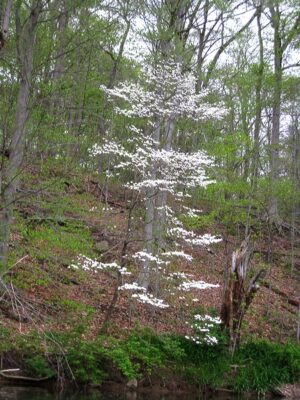 Bluebell season kept Randy, stern person in my boat, all excited, and we paddled from patch to patch to exclaim along the first hour. The Young People's boat in our flotilla was awash in cousin-talk, singing, and out loud laughing under the steel sky. It was chilly but their spirits were not and their banter kept the river lively with pirate songs and loud accusations as to exactly who had stunk up the canoe once again.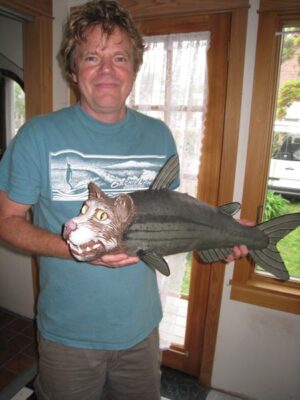 The other boat was paddled by Andre and Karen — a native who, at first meeting, showed me a basket of mushrooms that were so fresh from the nearby mushroom farm that they seemed to radiate pure whiteness. Andre, who looks perfectly normal, actually builds mutant creatures in his spare time. See "Cat Fish" if you think I'm kidding.
The canoe guide book promised two carries over small dams and the first one sounded before we saw it. We hauled the canoes over and around while Andre and Karen shot the rapid channel to river right. A bit of bridge graffiti asked the proverbial question many of us are forced to face: Prom?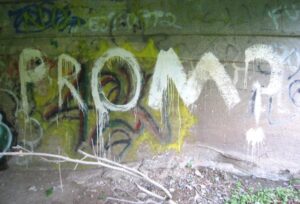 A giant bald eagle settled on a tree ahead of us and we quieted our boats enough to paddle right under its imperious watch. Our youngest paddler, after all the silence, made me burst out laughing by saying: "I silently said the Pledge of Allegiance as we paddled by him."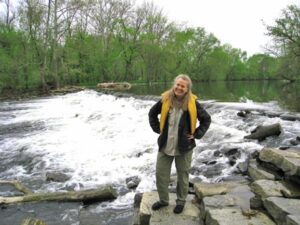 Several bridges spanned the still water, the last being a red covered bridge that made the only bright slash on this gray colored day…Except for one other and yet I know I do not have the skill to describe such magic…
As the day wound down we found swallows swarming above, big clouds of black split tails darting this way and that in the dusk. A flock of startling iridescent blue swallows broke off and flew around and around our boat, flitting inches from the water, flicking their brilliant wings and calling, "Spring!" "Come!" "See!"