Edging the Minnesota side of the Mississippi on Hwy 61, we turned east, between Wabasha and Winona, onto the gravel roadway of Ct Rd 74. The shining Whitewater River Valley rested before us, stretching every color of green from soft hillside to hillside while a lazy dark stream, seemingly the most misnamed in all the world, meandered down the middle of all this greenness.

The Whitewater River is one of those bi-polar rivers that nods sweetly through three seasons but rages through a swollen spring run-off. We found our way to the tiny town of Elba where kindly strangers directed us just over the bridge to the Wilderness Campground where we might find shuttle help.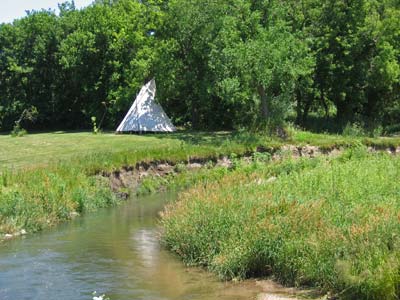 There we met Gary, owner, designer, and builder of this most-lovely of tiny compounds. Once part of his family's farm, Gary has tended several hundred feet of river's edge into a primitive campground for a handful of tents. A spacious teepee crowns a bend in the river (4/26/08: teepee is no longer available).
| | | | | |
| --- | --- | --- | --- | --- |
| Rock table | | Rock Table with Debra | | |
Gary, once a cement contractor, has a couple of discrete piles of small boulders and slabs of concrete sprinkled amid the property. This turned out to be the raw material for his creations. His wonderful massive stone tables are the centerpiece of each riverside campsite. (To reserve, call: (507) 932‑7013.)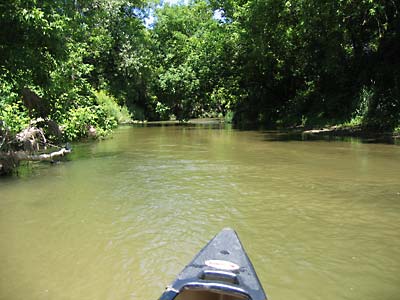 We entered the little stream on a riffled turn at the edge of the campground. The majesty and rigor of the 20th river was perfectly balanced by the opposite sweetness of this bit of rushing water. The stream never opened wider than fifty feet, twisting and turning through soft banks. Acres of tiny summer flowers edged our river, rimming the day in a happiness of yellow. Birds constantly darted back and forth across the bow of our canoe, adding a music so intense that Ian said our trip seemed scored for film.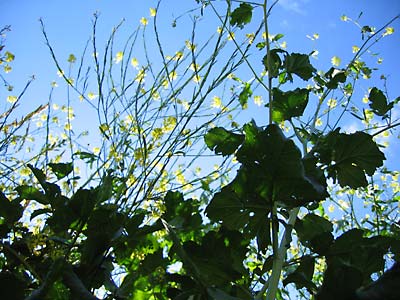 Due to the narrowness of the stream, any fallen tree could obstruct the entire waterway and the years had left many turns sprinkled with logs and stumps. The lazy current let us pick our way through with careful strokes and a few pulls over shallow sand. Often our green canoe made a long shadow over the unusual limestone ledges that rested just inches under the water.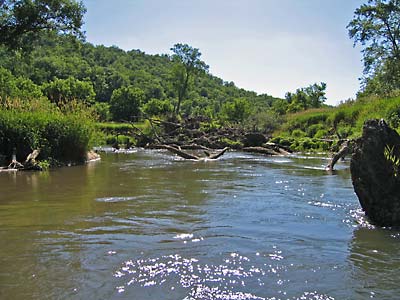 We spent our lunch puzzling over a complicated thirty-foot stretch of rock strewn, stump pierced, log obstructed rushing water. We finally figured out that there was no way through this curve of water without turning over so we resigned ourselves to getting wet. We battened down all the dry bags and chose the course of least resistance, knowing that the last knob of dead wood was going to catch us in the low water — Which it did! But in the bobbling second that we tipped to the gunnels, Ian made a quick push in his seat. I nearly tumbled out but, instead, caught myself and we slid off the stump, righted ourselves, and came out of the water puzzle dry and laughing. The take-out came too soon for this golden gift of a bird-songed day.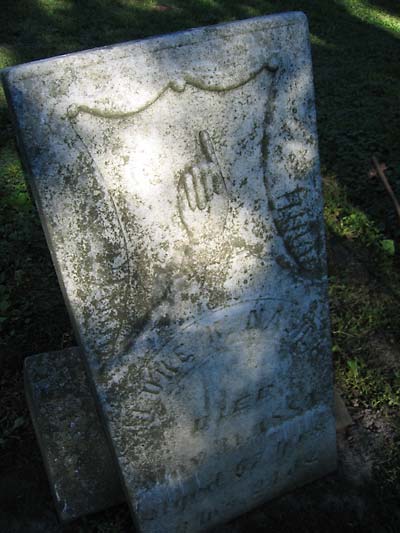 We had read of the 1880's town of Beaver, once nestled in this valley but slowly covered over with silt due to poor farming practices. After the extensive logging up stream, annual floods filled the valley and the town finally gave up and disappeared. We went searching for the evidence, as a "silted town" caught Ian's imagination. We drove up several gravel roads, ending up nowhere. Back on the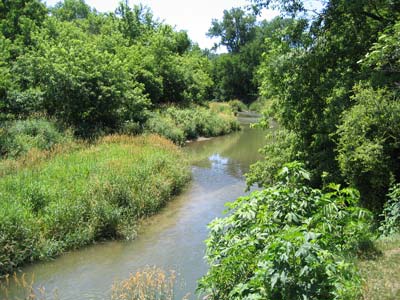 main road we saw a sign to the Beaver Cemetery, pointing up a hillside to drier land. We hiked the quiet trail and found the headstones of people who had tried to make this valley their home alongside the recent memorials to people who had stayed and built a life. One woman, in the 1890's, had lost four children, one every two years for eight years. Their stones stood there, all in a row. How does one go on after that? I wonder about her often.