Southeast of Rockford, Maine
If anyone has ever dropped a child (and an only child, at that), off at college, you know what I mean when I say that my tearful self arrived in Portland, Maine, after five intense college move-in days. Add some terrible weather, three canceled flights, an array of hours on the tarmac, and a too-late arrival, and you have one very sad potential paddler. Like dominos, my flight cancellations caused a cancellation of our planned trip on the Penobscot River and we were forced to regroup to a very modest Plan B. Let's keep the words short and the pictures big!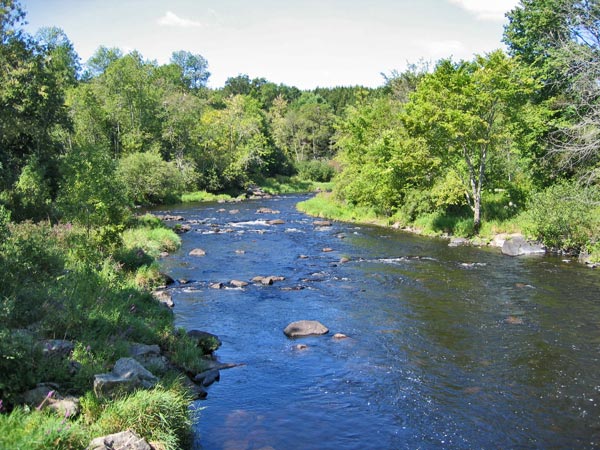 After studying guides we decided to take the St. George, a sweet small stream from Seven Tree Pond (all lakes are called Ponds in Maine), with a dashing, rocky ending. The great people of Maine Sport helped us plan the route and rent a canoe and supplies. We lashed it to our rental car and drove to the put in. Sweeping rolling hills. High clouds. Bright blue domed sky.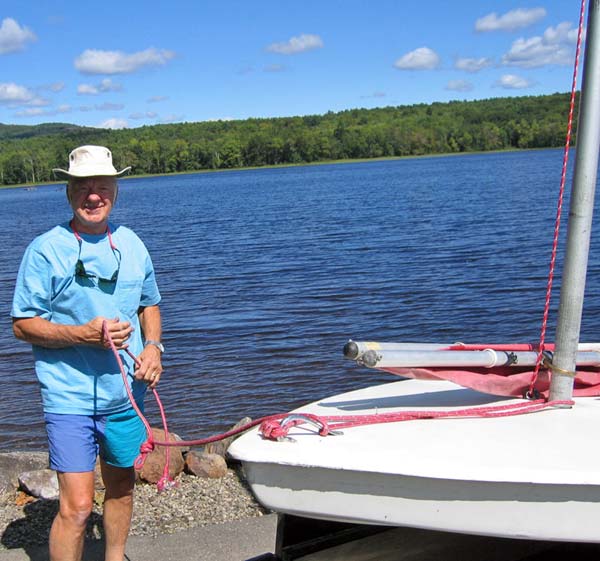 At the boat ramp we met a charming man who, while loading his sailfish asked us about our plan and happens to say… "Anyone mention the 25 foot dam? It's not marked but you'll probably hear it if the wind's not up." Needless to say, that got our attention. Turns out he was a member of a local canoeing club and they had recently paddled our planned route.
Given my shaky state, we decided to take his other suggestion of going across the lake and paddling upstream on the St. George, also eliminating our sketchy shuttle plan.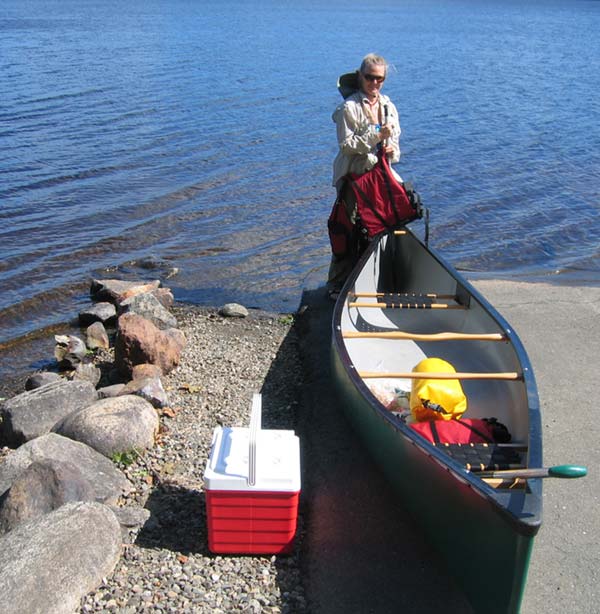 This new Plan C took us across a brief connecting stretch of river toward Round Pond. We startled a turtle on a rock that looked just like the turtle, then slipped past lily pads glistening in noonday sun. We'd been told to look far left for a huge granite rock for lunch and that's where we ate and watched clouds sail over the tidy distant farms — It was a spectacular stage show starring those Great Long White Puffy Clouds from the West.
Bucking the wind we found the grassy cut across the lake and ducked into St. George River. The water instantly turned silky, mirror like. We paddled a couple of lazy hours, past farms and the old fairgrounds, then turned the canoe and headed back to the landing. Before slipping out in to the lake Ian insisted on climbing one last rock while I held on against the wind. He made it up to me by unloading the canoe while I swam, back at the landing.
Post Script…After the river I headed north to Haystack Mountain School of Craft on tiny Deer Isle. There I watched tides, fog, sun, ships, and a growing peace float in and out of view. I studied book arts and journal making with my dear friend, Paulus Berensohn, and his amazing co-teacher, Joy Sidler. If you ever want to take one or two weeks to study something with your hands, visit Haystack's website. Sign up early as classes fill quickly…