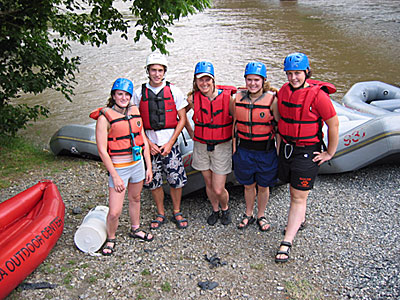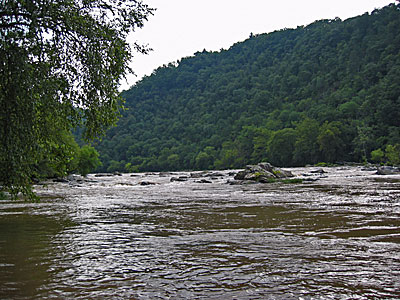 For this river I was joined by the brave and good spirited teens, Grace, Christopher, Calla, and Zoe. The Natahala Outdoor Center (noc​.com) hosts a river outfitting site near the French Broad River, a river that weaves through western North Carolina, including the city of Asheville, NC. A night of heavy rainfall had raised this Class II-III river a full 8 inches so they were not running individual "duckies," (small individual inflatable kayaks). Instead, we reserved a five person raft for the five mile trip on this old and well known river.
The NOC is famous for its energetic and talented guides. Our guide, Ian, was certainly both but when he gave us the option of guiding our own raft down the raised river and we accepted. (When you sign up for a trip through the NOC you are taken through a short course on river safety and fitted for helmets and PFD's, personal flotation devices.) We then boarded a big blue bus and were driven down a steep, winding road to the put-in beside the French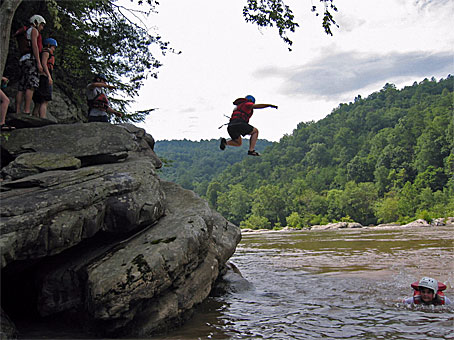 Broad. Giant silver inflatable rafts were blown up and set up at river's edge. A light rain fell. All of us grabbed a paddle, climbed in, and pushed off into the current. I sat up in the back, ready to steer the first raft of my life!
We followed Ian and his raft full of fellow river riders closely. At each rapid Ian paused in the eddy and called out the line we were to trace. As bow paddler I tried my best to keep us there. I was greatly helped by Zoe who is a fine canoeist from Minnesota, and together we managed to stay off rocks. (The difference between a canoe and a raft? I found the raft to require more "reach" in order to steer the craft. And no cross draw stokes!) At a slow curve we pulled over to a high cliff and the younger members of the expedition jumped from the rocks into the river. At this point Zoe and I switched and she steered, guiding us through the rest of the rapids, including the final Class III drop pictured here!