This Is the Planet Where I Live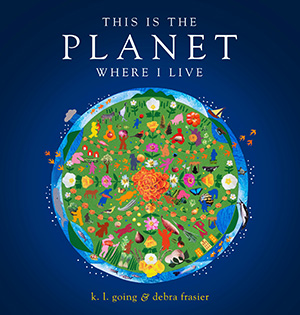 This Is the Planet Where I Live
Beach Lane Books | Simon & Schuster
40 pages
Available in: hardcover, ebook
hc: 978 – 1‑4814 – 6563‑2

This picture book celebrates and honors the interconnectedness of everything here on planet Earth.
The planet where we live is full of people, animals, insects, birds, trees, clouds, rain, oceans — and everything is interconnected. With a cumulative text and rich, highly-detailed collages, this book is a joyous ode to our wondrous planet.
Available March 21, 2023!
Collect objects and pictures outside
and write and illustrate your own book.


Out of the Ocean — Walking this beach slide
Out of the Ocean — Asking for shells slide
Awesome photos and collage art make this a visually stimulating book for children. The second graders in my class loved it and clearly understood the deeper meaning of appreciating all of the gifts we receive each day — sunrise, air, water, etc.
A BEAUTIFUL book! My students loved looking at it over and over there is SO MUCH to see! I suggest buying more than 1 copy so children don't have to wait to enjoy it.