The Incredible Water Show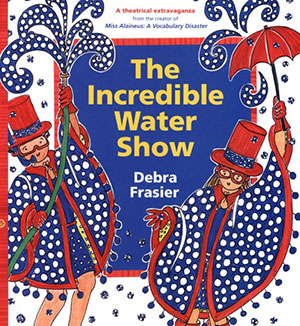 The Incredible Water Show
HMH Books for Young Readers
40 pages
Available in: hardcover
hc: 978 – 0‑152 – 16287‑0

This science companion to Miss Alaineus proves that water, H‑O-H, H2O, is the most miraculous of substances in this wacky play set on a neighborhood stage. Create your own show!
The kids from Miss Alaineus: A Vocabulary Disaster are back! This time they're putting on a neighborhood play starring the world's most astounding combination of atoms — H20! Filled to the brim with scientifically accurate facts about water and water conservation, here is one wet-and-wild celebration you won't want to miss.
Science facts about water
in an innovative performance format
Stage a play or reader's theater.



Incredible Water Show — Welcome slide
Incredible Water Show — Glug, Glug slide
Incredible Water Show — Water slide
With its bright, colored-marker cartoons and dialogue bubbles, this presentation is filled with exuberance… Frasier's offering, with its snappy text, jazzy pictures, and upbeat tone, may inspire children to produce plays about their own subjects of study.