SPIKE: Ugliest Dog in the Universe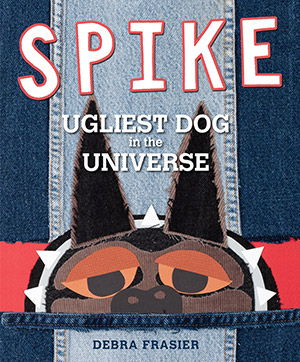 SPIKE: Ugliest Dog in the World
Beach Lane Books | Simon & Schuster
40 pages
Available in: hardcover, ebook
hc: 978 – 1‑4424 – 1452‑5
Can an ugly dog with a heart of gold find a home? A warm and clever picture book for animal lovers of any breed.
When Spike, the winner of the Ugliest Dog in the Universe contest, is abandoned by his owner, Joe, the boy next door, is determined — against all odds — to adopt him. Things look grim until Spike foils a neighborhood catnapping plan — and saves the day!
The collages in this book were created from worn blue jeans, bits of used clothing, and colored papers.
Introducing Spike and Writing Project


Animal Shelter Slide — Spike
Booklet Folding Directions
How to fold a single sheet mini-booklet. (This project uses two sheets to make two "signatures" joined by a rubber band.
(1 page)
How to Fold
a Booklet Video (7:51)
DOG DIARIES VIDEO:
Student Samples (9:09)
Discovering Spike's Voice
Can a Dog Teach Kids
to Write in the First Person?
How do we teach our young writers what it means to create a convincing character's "voice?" I stumbled on a possible answer when I finished writing and illustrating my picture book SPIKE, Ugliest Dog in the Universe. Oddly, I came to understand more about Spike's first person narration because it was NOT first "person" — but was instead — "first dog." In this story, Spike tells us some Big True Things: that beauty is a matter of perspective, ("Humans can be very ugly you know with those long swinging arms and no fur except on top" — ) and that being true to oneself is the strongest voice of all, the one place where love and courage stand a real chance.
Spike, Ugliest Dog in the Universe, is a tale about a dog with a huge heart, a dog who is walking proof of the proverb: Don't judge a book by its cover!
This tale includes bad guys and good guys, surprises, near misses — and a hero. Guess who? The illustration are collages made from old blue jeans and bits of cloth.