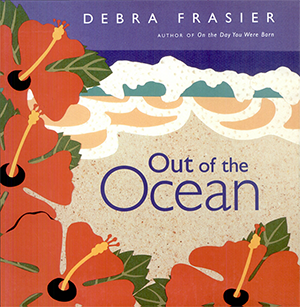 Out of the Ocean
Harcourt Children's Books
40 pages
Available in: hardcover
hc: 978 – 0‑152 – 16354‑9

This book is a tribute to childhood walks beside the Atlantic Ocean "finding things." A detailed glossary describes beach finds and sea creatures. Visiting the sea? Collect photos and notes of your treasures. Inspires collecting.
Open this book and you'll be walking along the ocean shore, looking for all kinds of special things. Some will be small enough to fit in your hand — like shells and sea glass. Others — like the sun and the sky and the waves — will be too big to carry home. But no matter what your journey holds, you'll soon learn that looking for the ocean's treasures can be as important as finding them.
Collect objects and pictures outside
and write and illustrate your own book.


Out of the Ocean — Walking this beach slide
Out of the Ocean — Asking for shells slide
Awesome photos and collage art make this a visually stimulating book for children. The second graders in my class loved it and clearly understood the deeper meaning of appreciating all of the gifts we receive each day — sunrise, air, water, etc.
A BEAUTIFUL book! My students loved looking at it over and over there is SO MUCH to see! I suggest buying more than 1 copy so children don't have to wait to enjoy it.