Miss Alaineus: A Vocabulary Disaster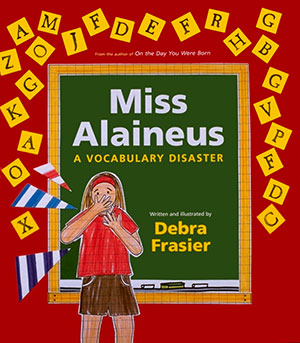 Miss Alaineus: A Vocabulary Disaster
Houghton Mifflin
34 pages
Available in: hardcover, paperback
hc: 978 – 1‑6068 – 6192‑9
pb: 978 – 0‑1520 – 6053‑4
Sage has misheard and misunderstood one of Mrs. Page's weekly vocabulary words. Her error leads to a humbling catastrophe: a momentous tragedy, in front of the entire class. Can Sage turn her vocabulary disaster: an event bringing great misfortune, into a triumph: a true success?
Anyone who has ever been daunted: discouraged or disheartened, by a mere word in the dictionary will cheer wildly: in a manner lacking all restraint, as Sage transforms embarrassment into victory in Debra Frasier's touching story of loving — and mistaking — our glorious language.
SELECTED AWARDS:
International Reading Association Children's Choice Award
International Reading Association Teacher's Choice Award
Oprah's Summer Reading List Selection



Sage Spelling Slide — Miss Alaineus
Book Cover Slide — Miss Alaineus
Astonishment Slide — Miss Alaineus
Debra reads Miss Alaineus
Online
Vocabulary Parade
Directions
In-school
Vocabulary Parade
Directions
Short Answers to Big Questions about Picture Books
Use these short videos to introduce concepts of editing, illustrating, and gathering inspiration to make a picture book. Great support for Author Studies and Publishing units!