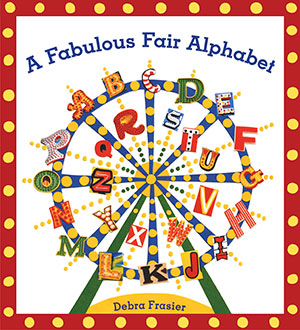 A Fabulous Fair Alphabet
Beach Lane Books | Simon & Schuster
40 pages
Available in: hardcover
hc: 978 – 1‑416 – 99817‑4

In A Fabulous Fair Alphabet letters of all sorts of shapes and sizes and styles — from blinking neon ones, to unusual old-style graphic ones to rustic hand-painted ones have been photographed and collaged together into an exuberant, eye-popping, letter-and-word-finding tour of the glories of the state fair. Bursting with with bright, bold illustrations of favorite fair elements like dill pickles and Ferris wheels and midway games, here is an alphabet-exploring adventure like no other!
Transform school carnivals into vocabulary building events! Download the instruction booklet.

Fabulous Fair Alphabet — Cotton Candy Slide
Fabulous Fair Alphabet — Midway Nights Slide
…a homage to state fairs everywhere.
A tribute to that most American of institutions: the country fair.
A Fabulous Fair Storytime Kit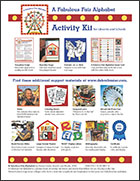 A creative approach for librarians and teachers by Debra Frasier and Kimberly Faurot

Turn a cereal box into a tiny puppet stage.
Play and Download the Song!

"I Want to Go to the Fair"

Sarah Parson and Ben Braden of "The Lower 48" rehearse created a song just for the Fair! Download here.
A Virtual Visit to the Fair
Explore the Fair with these six mini-tours!
Minnesota State Fair
Alphabet Forest Project
Play the Game!
Find YOUR Fabulous Fair Alphabet