A Birthday Cake Is No Ordinary Cake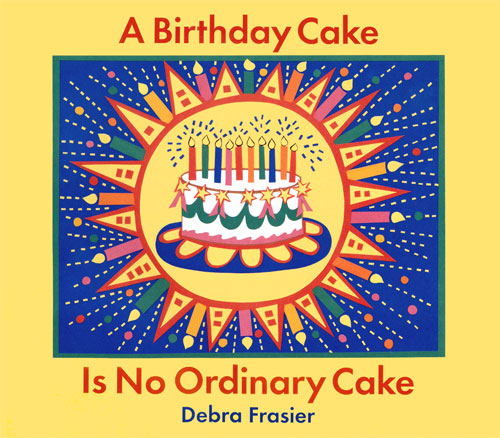 This book is currently out of print in hardcover and paper, but will soon be available in an e‑Book format.
Meanwhile, if you are a National Science Teacher and in desperate need of a copy, use Debra's Read-aloud version available on Vimeo.
In A Birthday Cake Is No Ordinary Cake we circle the Sun collecting the ingredients for our cake: summer shade, red leaves, snowy shivers, and robin's song. A glossary describes how trees count circles and a map places each birthday on its journey through space.
Meet My Birthday Cake — An Art & Writing Project
A birthday cake can creatively introduce
students and readers to each other.


Opening Slide — Birthday Cake
2nd Slide — Birthday Cake copy
It has become our second and third grade class's birthday tradition for me to read this book to the birthday child…We make a birthday book for the child to take home that is based on the vivid illustrations.
This is a great book to illustrate what a year is to a small child.
Attention National Science Teachers Association (NSTA)
If you use this book in national curricula: While we search for another publisher, please use this slide show reading by Debra Frasier to support your lessons!
Build three-dimensional cake display posters for bulletin boards. Using cut-paper collage techniques like the author-illustrator, Debra Frasier; cut construction paper strips and decorate flat "cake layers". Then watch delight grow when the 3‑D effect makes the cake "pop out." Colored paper, tape, glue, and scissors are needed. Cardboard backing is optional.
How Many Days to Your Birthday?
Map makes the idea of the Earth's journey around the Sun concrete and visual. Here's how it works: Find your birthday. Find today. Follow the direction of the arrows and plot how many days before your NEXT cake is due! This project involves map skills (abstraction), counting by 5's, the months, the seasons with a solstice or an equinox, as well as leap day.
Print these 8.5 x 11 inch coloring sheets, mount on tag board, and use them to retell the story in a read-aloud.

Send students on a Web search for pictures of the Earth and Sun as seen from space.
These government sites offer excellent pictures to download and print: