MADELINE ISLAND, WISCONSIN: Every summer I head to a cabin facing Lake Superior, on Madeline Island. There is no bridge so everyone takes the ferry with their cars, or goes with bike or a back pack. I try to stay for two weeks when I can afford the time and money. We always take two or three canoes and every night, weather permitting, we paddle the sun to bed.

HOH RIVER: We are on water more than the River Project counting reflects…Work took us to the Olympic peninsula in late September, 2005, and we booked a guided trip on the Hoh River but were warned that it might be too low to navigate. The Hoh is a glacier fed river and as the air cools the meltwater tapers off, and the river dries. Sure enough, it was too low to paddle by the time we arrived so we hiked instead. It was breathtakingly gorgeous, and we saw trees so big your heart filled up just to lean back and try to see their tops.
MINNEHAHA CREEK: This summer, 2006, we gathered up a fleet of boats and returned to Minnehaha Creek, here in Minneapolis. (See River #3) I tried out my new red solo Bell canoe on the twisting creek, and was thrilled to find I could manage it. But a solo canoe leaves NO time for photos and it wasn't until I was home that I realized I had not taken a single picture.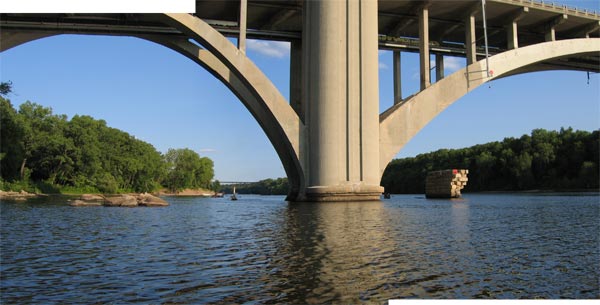 MISSISSIPPI RIVER: The Mississippi River is usually filled with loaded barges, all throwing huge wakes as they chug through our neighborhood. The Fourth of July holiday gave us a chance to throw the canoes in the river while the tugboat captains were on vacation — David, Sheryl, and Joseph joined us for a short late afternoon paddle through the only gorge on the great Mississippi River. Other afternoons we have headed to the nearby lakes just to get wet…So you see, not all water is Counted Water!